Run with a local in Stockholm.
Pack your trainers and come for an exhilarating run in beautiful Stockholm, expertly led by local guides!
TOURS AND RUNNING OPTIONS
Choose from our suggested runs or customise a run yourself - further details and availability below. All our runs are approximately 1 to 1.5 hours.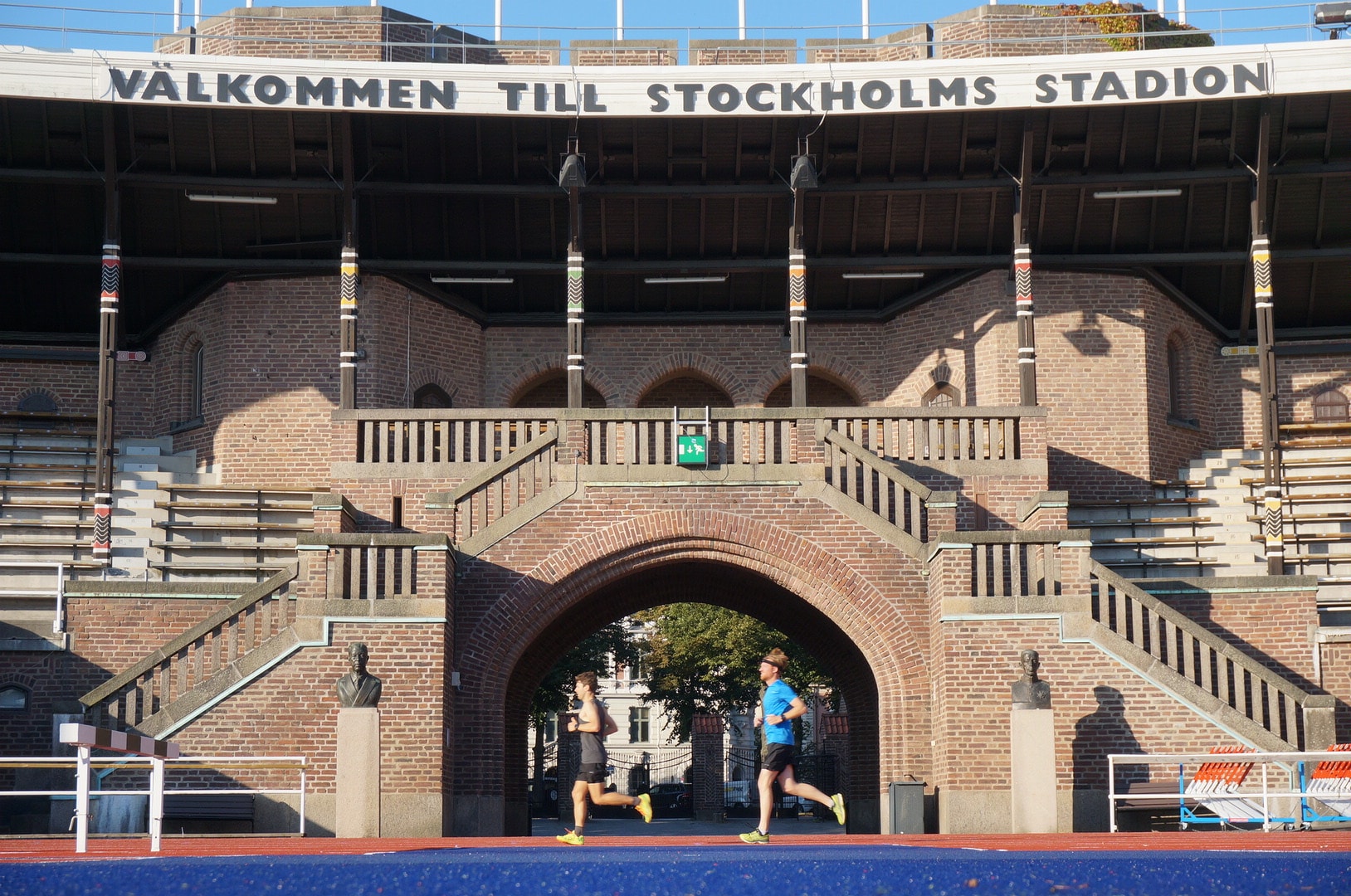 TOUR AND RUN DETAILs

CLASSIC SIGHTS TOUR
Take in Stockholm's most famous sights on our most popular tour. This 6 km / 4 mile run has up to 5 stops along the way, ensuring more time to take photos (and catch your breath) as we take a more leisurely pace running through the city. That way you can soak up the views and your guide's stories about Swedish culture, history and tips for the rest of your stay. The pace also means there should be enough fuel in the tank for some mid-run cross-training; optional of course.
Price: 1 person: €50, 2 people: €60, 3-4 people: €80. More than 4: send us an email!
DJURGÅRDEN TOUR
Arguably Stockholm's most idyllic island, Djurgården is just a short run from the city centre. We'll tick off some must-see city sights before leaving the hustle and bustle behind, heading for the island's ornamental gardens, shady forests, hidden palaces, and waterside paths. Djurgården island is not to be missed on any visit to Stockholm! This tour is 10 km / 6.5 miles, so great if you would like a longer, flatter run, with fewer stops.
Price: 1 person: €50, 2 people: €60, 3-4 people: €80. More than 4: send us an email!.
SÖDERMALM HIPSTER TRAIL
Cool and alternative, Södermalm is also home to some of Stockholm's most impressive views. On this 10 km / 6.5 mile tour you'll run lesser-known but fantastic local routes, soak up the art and café culture and get a true feel for this much-loved corner of our city. Be warned that this is our toughest run, as Södermalm is the hilliest of the central islands.
Price: 1 person: €50, 2 people: €60, 3-4 people: €80. More than 4: send us an email!
CUSTOMISED RUN
Want to go outside the city for a trail run? Or be trained by one of our coaches at the 1912 Olympic Stadium? Training for a marathon and don't think that 10 km is enough? Or got another idea of your own? Get in touch via the booking form and let us know what you're looking for.
Price: on request.
SCHEDULE
We have enough runners in our team that we can normally accommodate most requests (and if not at the exact time or date we will suggest alternative options). Please contact us using the booking request form, and let us know if you are flexible on dates and times. We'll try and get back to you within 24 hours.
FIND OUT WHY WE're ONE OF THE TOP Ranked OUTDOOR ACTIVITY OPTIONS- WITH OVER 70 5-STAR REVIEWs!
Fantastic way to see Stockholm
"This was a great way to see Stockholm and learn a little of Sweden's history! Our group went out at a very casual pace and the guide did a great job to stick to what was most comfortable for our group. My friends and I couldn't stop talking about how much fun we had afterwards and we would highly recommend the tour to anyone looking for a non-conventional guided way of seeing some of the city."
Solo running tour
"Anna was an excellent guide and I got a great workout in before eating my way through the city! I did the classic sights tour at a very easy pace, saw some main attractions, got oriented in the city and had a conversation about the current Swedish culture. Well worth my time and money!
100% recommend."
RUN WITH ME STOCKHOLM IN THE Media
Frequently Asked Questions
HOW FAST / WHAT PACE IS THE RUN?
You decide! Our guides adjust to run at your preferred speed. Let us know in the booking request form.
Which RUN is the best?
Each run is different and has something unique about it! The classic sights is a great introduction to Stockholm and is good if you want to run a shorter distance. Djurgården is a nice longer run and great for seeing typical Swedish "nature". The Södermalm tour has some of the best viewpoints in Stockholm, is the toughest route, and the most "off the beaten track" of our city runs.
HOW DO I PAY FOR THE TOUR?
Once your tour is confirmed you will receive an electronic payment link via email.
Is there somewhere to leave my stuff?
Unfortunately no. So we recommend you bring only the essentials with you.
Is there anywhere to change?
No, so please come dressed in your running clothes.
Can we start from my hotel/AirBnB?
Potentially, but we've carefully planned each of our routes, including the start points, so that you see the very best of the city. If we start from your hotel instead, there's a chance you'll miss some great sights. Stockholm is a pretty small city and easy to get around either by foot, bike or public transport, and all the start points are very accessible using city centre metro stations.
Where do we START AND finish?
The Classic Sights Tour and Djurgården Tour start and finish in the old town (Gamla Stan) outside Vapiano restaurant, Munkbrogatan 8. The Södermalm tour starts near Slussen train station outside Cafe Fåtöljen, Götgatan 14.